Top 5 Sativa Strains Of 2021
When looking for potent sativa to buy, you may find yourself spoilt for choice. This weed strain guide will help familiarize you with some of the best sativa and, we dare say, the best marijuana strains in Scarborough.
Whether you're new to smoking marijuana or you've been down as long as Seth Rogen has, you've found yourself wondering: what are the best sativa strains?
Most users prefer pure sativa strains to pure indicas; although most strains out there are a hybrid of the two, it's common to find people that only smoke true sativa strains.
Indicas are great for muscle relaxation and deep sleep, which are both great, but sometimes, dead leaves need raking, and snow needs shoveling. You couldn't take care of any of this when you're couch-strapped!
This is why you should try smoking sativa dominant hybrids or pure sativa strains.
Different types of sativas pack different THC and CBD concentrations, thus have different potencies.
This weed strain guide will give you a breakdown of the top 5 sativa strains and what to expect from a sativa weed high.
When you're looking to buy legal weed in Scarborough, this guide will also help you choose the sativa strain that best suits your needs.
5 Best Marijuana Strains To Try In 2021
1. Pink Ghostfruit Haze
Bred by cannabis giant Synrg, Pink Ghostfruit Haze is a sativa-dominant marijuana strain that will knock your socks off. This cannabis strain contains about 16.2% THC and makes for a very potent experience.
Pink Ghostfruit Haze flower is a real beauty to look at, and even more to smoke. Its resinous pale green buds have elegant streaks of violet and orange-brown, making it one of the more exotic sativa strains available in Scarborough.
This flower goes up in smoke to leave behind strong notes of sandalwood, citrus, and sweet honey.
Its flavor profile blends wonderfully with wines and chocolates- this makes it the perfect strain to pull out when you're throwing a BBQ with your buddies.
Pink Ghostfruit Haze yields a deep head and body high that will leave you happy, euphoric, and energetic.
Many users have also reported experiencing bursts of creative energy after smoking this strain. Thanks to its sativa concentration, this bud allows you to enjoy the joys of THC without indica's couch-locking tendencies.
The origins of Pink Ghostfruit Haze remain a mystery- this is probably why it's one of the most sought-after sativa dominant strains in Canada. Pink Ghostfruit Haze is available as dried flower.
2. Tangerine Dream
If you're looking for a sativa you can enjoy during the day, Tangerine Dream from San Rafael '71 is the best sativa strain you could get. This strain is smooth, aromatic, and potent and will be the perfect companion during your hiking expeditions.
Tangerine Dream is famed for its uplifting effects- its high kicks in as a mellow buzz that grows into a heavy full-body high. San Rafael developed this strain for medical use; it may, therefore, relax your muscles and provide relief from pain.
If you're looking for a calm and energetic head high you can easily navigate, it would be a good idea to microdose. Don't be fooled by its pretty appearance – smoking too much of this bad boy will leave you bedridden!
Tangerine Dream has a heady, citrusy aroma and a spicy, minty flavor.
It traces its origins back to Afghani, Neville's A5 Haze, and G13. Alongside its heavy THC content, these strong genetics contributed significantly to its crowning as the Top Sativa Flower at the 2019 Canadian Cannabis Awards.
Stok'd Cannabis, a legal marijuana dispensary in Scarborough offers this daytime strain in 1g, 3.5 g, and 7 g packs.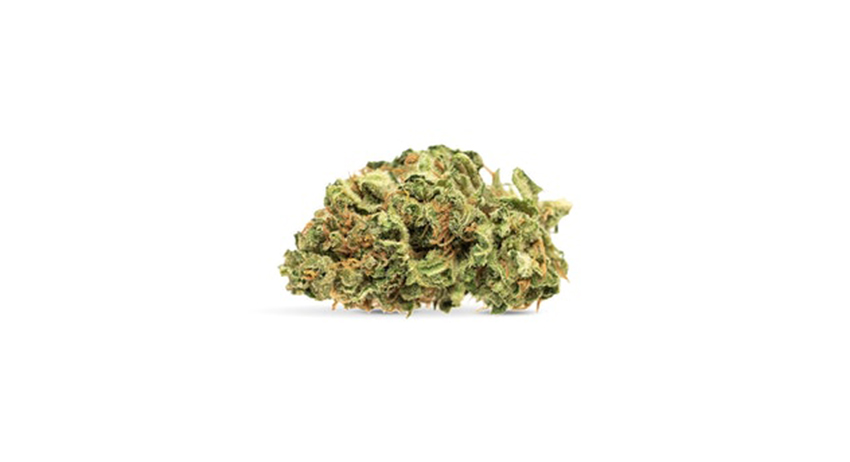 3. Ultra Sour by Namaste
Dank, powerful, and potent, Ultra Sour is everything its name suggests. The brainchild of Namaste, this sativa dominant strain packs about 20.6% of THC and may fall on your most-potent-weed list. And according to long-time users, this may well be one of the best sativa strains in Canada.
Its pale green flower is covered almost entirely by trichomes. When smoked, Ultra Sour gives off a strong pine and citrus aroma with powerful wisps of diesel. Smoking this strain brings on a hard-hitting head and full-body high.
Ultra Sour is one of the best sativa strains for energy. As is the case with the typical sativa weed high, expect to feel happy, energetic, and focused.
Many users have also reported creative breakthroughs while high on Ultra Sour. You should definitely carry some of this flower on your next campfire, songwriting retreat.
Thanks to its heavy sativa profile, Ultra Sour is the perfect afternoon strain. You may feel quite talkative after hitting a toke or two; this makes it ideal when you're out for a trip with your friends. It will also come in handy when checking in with your family and having long conversations.
Ultra Sour was developed by crossing MK Ultra with East Coast Sour Diesel. It is, therefore, incredibly potent and is best left for the experienced smokers.
4. Grapevine GG1
Grapevine GG1 is a potent sativa that has the luxury of being one of the best marijuana strains in Scarborough.
Bred by Emerald Health, this strain was developed by crossing Grapevine (a sativa) with GG (an indica-sativa hybrid). This aromatic beauty packs up to 17.9% THC; it results in a strong, enveloping high that makes it ideal for pain relief and muscle relaxation.
Grapevine GG1 has a strong smell and flavor profile, complete with citrus, pine, and pungent diesel notes. This makes it one of the best tasting sativa strains in Canada.
This bud causes a calm head buzz that explodes into an intense full-body high. You may feel overcome by a sudden gust of energy that will leave you motivated and make even the most mundane tasks enjoyable.
Grapevine GG1 is one of the best sativa strains for energy. Therefore, it is the perfect strain for a Sunday afternoon spent at the beach, playing volleyball with family and friends.
This marijuana strain is packaged as dried flower in packs of 1 g, 3.5 g, etc., and is available for delivery and curbside pickup.
5. Green Crush
When it comes to naturally and sustainably-farmed marijuana, 48North never comes short.
Green Crush, their best-selling offering, is famed for being "grown in the sun, and watered by the rain" and is as natural as you'll ever get.
There's no denying it- Green Crush also probably has one of the best sativa strain names in the game.
A true sativa strain, Green Crush is the perfect daytime smoke. Its high has a sly, conniving front; it starts out as a slow, cerebral buzz that quickly culminates in an engulfing burst of mind relief and euphoria.
For medical patients, this is one of the best sativa strains for energy- it leaves you motivated, energetic, and uplifted as it lacks the dizzying effects of indica.
Green Crush has an intense aroma profile. It has a skunky, sweet smell; when smoked, it erupts into strong citrus notes with hints of vanilla and sweet, buttery caramel. And doesn't it blend with your morning cup of coffee!
Green Crush was developed by crossing Skunk and AK48/Sweet Leaf; it thus has strong, resilient genetics.
This makes it one of the best marijuana strains in Scarborough.
Stok'd Cannabis Is Committed To Quality
As the world turns its back on its old view of marijuana, choosing instead to see the benefits and opportunities this herb can bring, we're stok'd to bring you the best cannabis money can buy.
We source our weed from established retailers, all dedicated to quality, ethical production, and sustainable farming.
We pride ourselves in collecting top sativa strains from all over Canada, cultivated by and for Canadians. The strains we offer were lovingly grown in the soil and were cared for by experienced farmers.
If you're looking for fresh, natural, legal marijuana strains in Scarborough and East York, we're more than happy to help!