Toronto's Guildwood Village, also known as Guildwood, is a neighbourhood in the city's suburb of Scarborough. It's along the Scarborough Bluffs, a great place to smoke a joint and stroll, south of Kingston Road and east of Grey Abbey Trail. Did you know the Guildwood flag's symbols and colours have a deep meaning for the residents of this lush neighbourhood? Four quadrants represent Guildwood Village's rich arts and culture, the ample woods and green spaces, its iconic mid-century architecture, and the Scarborough Bluffs, as well as a vibrant, colorful Guildwood Village community. Guildwood is home to several municipal parks to explore with cannabis, all of which you can light up a joint and enjoy perfectly manicured paths courtesy of the Toronto Parks, Forestry, and Recreation Division. I often find myself wondering "is there a cannabis store near me"? Many of these parks are within walking distance from the Scarborough Bluffs, a Stok'd store, and the Toronto waterfront to make for a great cannabis-infused adventure.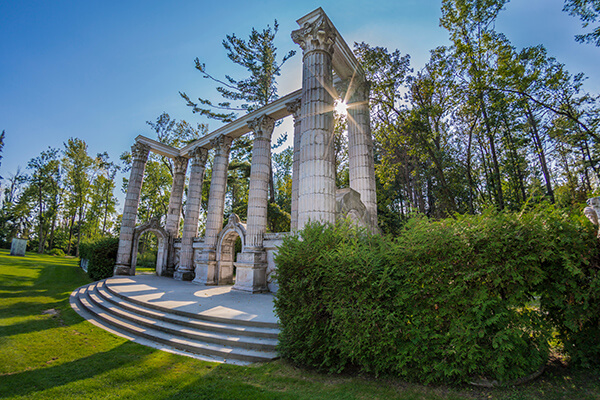 Where do you buy weed when you're south of the tracks in Scarborough? We're near, don't fear, and we deliver.
Panorama's Mr. Gas is one of our more popular cannabis strains. It's great for outdoor activities. The nugs of this plant are compact and neon green, with gold patches and a scattering of fine orange hairs and translucent trichomes covering the surface. The Mr. Gas high is described in-store as cannabis having an almost immediate hazy onset of a soothing, warming, numbing body high spread from the back of the head and spine to cover the rest of the body in slow waves of numbness. Remember, there are five parks in Guildwood: Elizabeth Simcoe Park, Grey Abbey Park, Guild Park and Gardens, South Marine Park, and Sylvan Park. Guild Park and Gardens are known for its collection of relics, usually from demolished houses in downtown Toronto. You can enjoy a doobie at the foot of the pillars, or with a timeless monument. The adventure is truly yours to discover.
Spin a joint and explore south Scarborough. We're still your nearest pot shop.
The Bluffs. They're breathtakingly high at some points – and make for a great place to enjoy the scenery while lighting up a pre-roll. PINNRZ brand is deeply synonymous with a quick, convenient, smooth smoke – something you can expect from them every time you have one. A little history about Scarborough Bluffs. by the French, they were called "Les Grands Ecores", or the tall points along the shore. Moreover, the Scarborough Highlands were named after Scarborough, North Yorkshire, in 1793. Elizabeth Simcoe, wife of the first lieutenant governor of Upper Canada, John Graves Simcoe, chose this name. A little-known rumor: her favorite cannabis strain was cold creek kush. We're not sure which store she would've shopped at, but cannabis bought back then was likely grown by their friends. Scarborough became the name of the entire township in 1796. The cliffs became known as the Bluffs over time.
Dispensaries with quality cannabis delivery in Scarborough. Stok'd is fast, friendly, and always convenient.
We deliver weed of the highest quality. In the west, where the Bluffs stretch for 15 km (9.3 miles), reaching 90 metres (300 feet) high, or 25 stories. In the east, the Bluffs stretch for 30 km (17 mi). Additionally, the escarpment extends westward inland, it crosses the Don Valley, pauses over Queen Street East, and continues north on Davenport Road. The escarpment is part of the old shoreline of Glacial Lake Iroquois, which formed after the last ice age and left valuable geological records as part of the escarpment by the lake eroded, long before cannabis stores. Toronto Islands were formed from eroded alluvial deposits from the Bluffs.
The best weed store strains available in Scarborough. Order online for weed delivery near the Bluffs.
Pick up new cannabis products at our Cliffside location. Bordered to the west by Midland Avenue, to the north by Canadian National Railway, and to the east by Bellamy Road. Further, Cliffcrest is home to many parks, many of which are near Scarborough Bluffs and the waterfront. Also, making this a great place to drink an OG Cola by SWEET JUSTICE. Fast-acting, light, and a low dose that is non-intimidating and sessionable. Furthermore, you can enjoy a few without leaving Earth's orbit. After the store venture over to Cudia Park, McCowan District Park, and Bluffer's Park, which includes the Bluffer's Park Yacht Club and Bluffer's Beach with your cannabis. In addition, both have plenty of activities to enjoy with an upbeat sativa or a mellow hybrid. On Kingston Road, the Cliffcrest branch of the Toronto Public Library is close if you feel like an indica blunt and chilling with a book.
It may have always been easy to get weed in Scarborough Village, but now the quality is better. More convenient at Stok'd.
Scarborough Village is a neighbourhood in Scarborough, a suburb of Toronto, Ontario, Canada. Then, there is Scarborough Township's first post office which was located in this settlement, one of the earliest settlements in the former township. As of today, the neighborhood consists of housing, apartment complexes, schools, a few stores, and of course the best cannabis shop in Scarborough, Stok'd. Grab your stash and head south for a session along the Scarborough Bluffs escarpment.
Need weed in West Hill? Cannabis delivered, fast and friendly, order online or in store.
The neighbourhood of West Hill is located in Toronto, Ontario, Canada. Situated more specifically in Scarborough, a suburb at the eastern end of the city. The neighbourhood is bounded by Scarborough Golf Club Road, Highland Creek, Lake Ontario, and the CNR railway tracks from west to northeast. Therefore, munching on a couple of Raspberry Pomegranate Soft Chews by MR. CHEWS and taking a walk through the trails is a breath of fresh air. Highland Creek borders three sides of the hill. Then, there's the system of parks that surrounds the community. In addition, Morningside Park and Colonel Danforth Park are located along the creek. While East Point Park is located along the shore of Lake Ontario at the eastern end of the Scarborough Bluffs.
In-store, our budtenders can help you find the best strain for you. Stay Stok'd.
For the best weed strains visit us in-store or online! Buying weed from your local cannabis retail store has never been easier! Our goal is to help you make an informed decision about your purchase. Whether it's for you or someone else. The budtenders at our store are very knowledgeable about cannabis, and are happy to answer any questions you may have! To this end, reach out to us if you need advice. We have been doing this for a while and are happy to help!